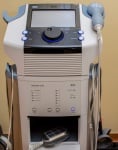 Diadynamic currents
Diadynamic currents are low frequency currents with 6 varieties with one-way or two-way rectification. Mainly diadynamic currents have pain-relieving and vasodilating effect, improve lymph flow and metabolic processes.
These currents are applied to:
neurological diseases
Buerger's disease
Raynaud's disease
post-traumatic conditions
difficult-to-heal wounds
gynecological diseases.
Schedule an appointment for diadynamic currents in Stara Zagora by calling: 042 230 155 and 0879 322 190 or at the following address: 19, Dr. Todor Stoyanovich Str.